---
Ink Longevity from the HP-360 Latex Printer.
Our sign shop, Falls City Signs & Graphics in Louisville, KY, prints using the HP 360 Latex printer. (see it in action) We use it to produce all of our large format prints for signs. It is a relatively new tool for the sign industry, and is, according to HP's write-up, a big improvement over previous generations of latex printers. In my opinion, it's a big step forward for all wide format printing technologies, solvent printers included.
One of the biggest advantages our printer has over older sign shop printers is in pigment longevity. Sunlight breaks prints down. More specifically, ultraviolet rays break down the chemical bonds in inks and thus fade them over time. It's true for inks and for the media those inks are printed on. Even the panels that the prints are applied to will begin to breakdown over time. How often have you seen a once bright white sign face yellowed with age, or the letters on a sign faded and virtually unreadable?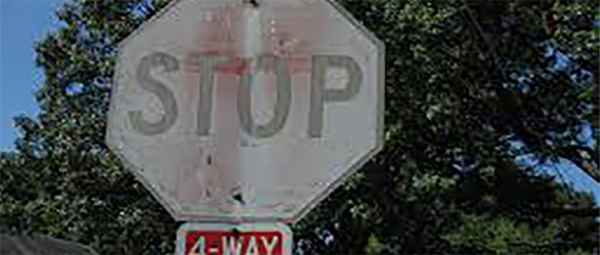 That's why, nearly every outdoor print that a sign company produces receives a layer of UV-protective laminate. We do the same here at Falls City Signs and Graphics. It's how we ensure our prints will be long lasting and keep their vibrant colors for years. Some things however, cannot be easily laminated. Media that isn't flat, such as banners or perforated vinyl go outside without a true UV protective laminate. Spray-on laminates are available, but expensive. Applying them takes time, further increasing the cost for the customer.
Fortunately, our HP 360 Latex Printer produces prints with up to a 3 year pigment life even when not laminated. Not want to go on just the data, we had to test it for ourselves. One of the first things we made after we began business 20 months ago was perforated prints for our front office windows. We thought a nice, bright Fleur de Lis set would be appropriate considering our hometown.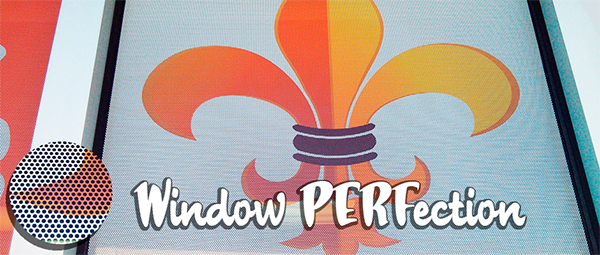 Those windows receive a lot of direct sunlight during the hottest parts of the day, so we knew it would be a grueling test for the inks. All these months later, and the colors have not yet shown any signs of fading. No prints are invincible, especially those that aren't laminated. These too will eventually succumb and begin to breakdown and lose their vibrancy. I'm beginning to wonder though, will the inks actually outlast the vinyl they're printed on? I guess we'll leave them up for another year or two and see.
  Find us online:
  Email - info@fallscitysigns.com
---
Get a Quote!